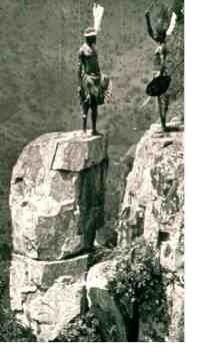 Saturday, 2 June 2007, 9:00-17:45

Slottsbiografen, Nedre Slottsgatan 6B, Uppsala

A stolen diamond, a colonial uprising, and a young girl dreaming of romance—such were the melodramatic ingredients of The Rose of Rhodesia (Harold M. Shaw, 1917), one of the earliest feature films made in Africa and perhaps the first film to cast Africans in lead roles.

Long thought lost, The Rose of Rhodesia was recently discovered in the Film Archive of the Netherlands. The English Department of Uppsala University is proud to present a premiere screening of a restored copy of the film, accompanied by distinguished pianist Matti Bye, at Uppsala's historic Slottsbiografen. The screening will be followed by a symposium in which international scholars will discuss the film from an array of theoretical and historical perspectives, including early cinema, Zimbabwean and imperial history, English literature, postcolonial theory, and gender studies.


Students, teachers, and film enthusiasts are all warmly invited to take part in this event.
To register, deposit 100 kr in PlusGiro account 1101943-7 no later than Friday 18 May.
Enquiries: stephen.donovan@engelska.uu.se or vreni.hockenjos@mail.film.su.se


______________________________

PROGRAMME


08:00-09:00
Registration
(Slottsbiografen foyer)


09:00
Welcome
09:15-10:15

Keynote address:

In Africa, Diamonds Are Forever: From "The Rose of Rhodesia" to "Blood Diamond"

Peter Davis (Villon Films, Vancouver)


10:15-10:45
Coffee
10:45-11:00
The Print of "The Rose of Rhodesia"

Elif Rongen-Kaynakci (Netherlands Film Archive)


11:00-12:15
Premiere screening of The Rose of Rhodesia

Piano accompaniment by Matti Bye


12:15-13:15
Lunch



13:15-15:15

Session I.

History with Lightning: "The Rose of Rhodesia" and Early Cinema

Vreni Hockenjos (Stockholm University)


Ushakapilla's Dream: White Cape Town's Reading of "The Rose of Rhodesia"

James M. Burns (Clemson University, USA)


Imperial Supremacy Visualised as a Lesson in Love.

Ylva Habel (Stockholm University)


15:15-15:45
Coffee


15:45-17:45
Session II.

The Imperial Perspective

Bernard Porter (Newcastle University, UK)


"The Rose of Rhodesia" and the Colonial Image

Stefan Helgesson (Uppsala University)


Guns and Roses: Rhodesia and the Woman Reader

Stephen Donovan (Uppsala University)


17:45
Symposium ends